This is a list of online css tools to help web designers produce code easier and quicker.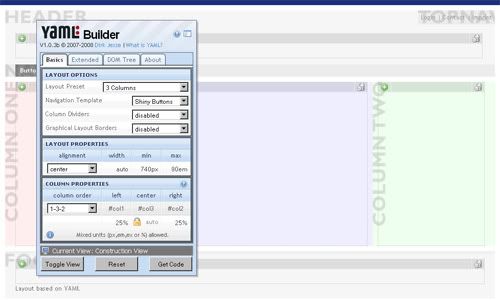 Fonts
Typetester is an online application for comparison of the fonts for the screen.
Em Calculator is a small JavaScript tool which helps making scalable and accessible CSS design. It converts size in pixels to relative em units, which are based on a text size.
CSS Type Set is a hands-on typography tool allowing designers and developers to interactively test and learn how to style their web content.
Font Tester is a free online font comparison tool. It allows you to visually compare fonts side by side with different CSS font styles applied.
PXtoEM is px to em conversion made simple. Choose your body font size in pixels (px)and out comes a complete pixel (px) to em conversion table, making elastic web design with CSS a snap.
Create a style to your text.
CSS Layouts Creator and Generators
The CSS Grid Builder is a simple web-based interface for quickly creating any number of layouts that rely solely on YUI's CSS files.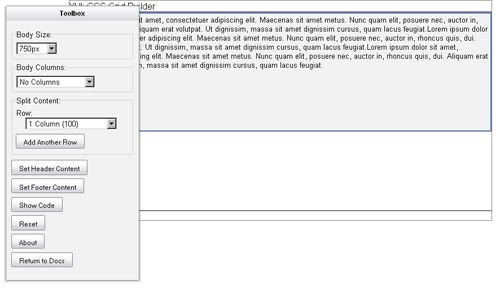 A tool for visual layout development of YAML based CSS layouts.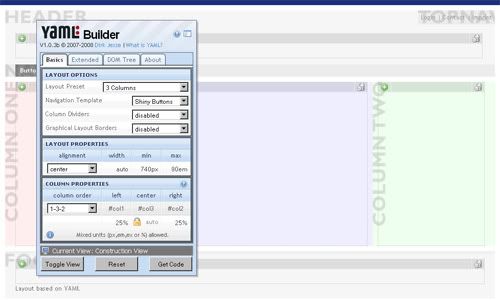 Online CSS Template Generator
A Tool for designing grids and typography.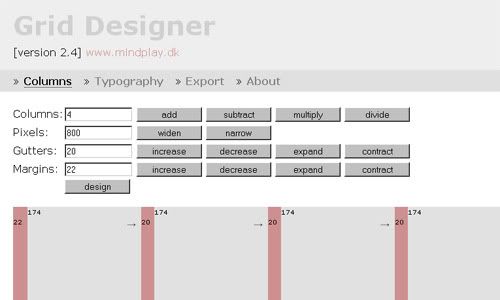 This generator will create a fluid or fixed width floated column layout, with up to 3 columns and with header and footer. Values can be specified in either pixels, ems or percentages.
It provides you the possibility to literally draw your website's code.
Create Cross-Browser List-Based Navigation Bars with Ease.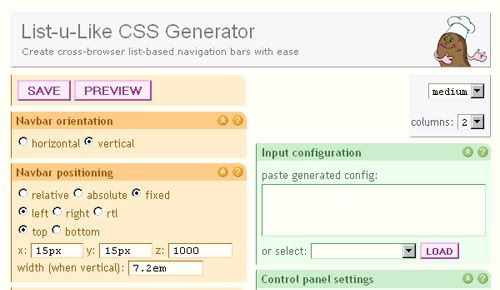 An Interactive Online CSS Editor to design your CSS styles.
A CSS Style Editor.
Simple tool that will generate CSS frame out of your XHTML structure.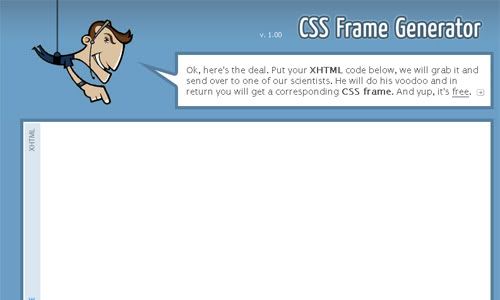 Simple tool to help you start XHTML/CSS coding faster.
Sky CSS allows you to create CSS classes almost without using manuscript code.
CSS Creator allows you to choose a style for your web page.
Use the CSS Grid Calculator to quickly visualize page layout and draw grids in a variety of ways.
This tool will create a basic style sheet.
A usable generator for 3 column layout.
WYSIWYG Layout Editor, Semantic & Table-Free.
This tool will help you generate more flexible versions of Blueprint's grid.css and compressed.css and grid.png files.
CSS Frameworks
Blueprint is a CSS framework, which aims to cut down on your CSS development time.

Yet Another Multicolumn Layout (YAML) is an (X)HTML/CSS framework for creating modern and flexible floated layouts. The structure is extremely versatile in its programming and absolutely accessible for end users.
An Universal Cascading Style Sheets for Web Printing.
It was built to help designers write CSS faster and more efficient.
The 960 Grid System is an effort to streamline web development workflow by providing commonly used dimensions, based on a width of 960 pixels.
The Logic CSS framework is a collection of CSS files and PHP utilities to cut development times for web-standards compliant xHTML layouts.
SenCSS is a sensible standards CSS Framework. This means that SenCSS tries to supply standard styling for all repetitive parts of your CSS.
Tripoli is a generic CSS standard for HTML rendering. By resetting and rebuilding browser standards, Tripoli forms a stable, cross-browser rendering foundation for your web projects.
BlueTrip gives you a sensible set of styles and a common way to build a website so that you can skip past the grunt work and get right to designing.
The foundational YUI Grids CSS offers four preset page widths, six preset templates, and the ability to stack and nest subdivided regions of two, three, or four columns.
Formatters, Optimizers and Compressors
Online CSS Formatter and Optimizer.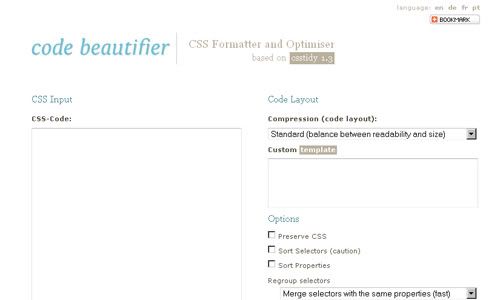 Optimize and format your CSS using a variety of different compression settings. Fixes sloppy code and generates clean and concise CSS.
This tool can significantly reduce the size and complexity of your CSS by programmatically stripping unneeded content, stripping redundant calls, and intelligently grouping the remaining element names.
Online CSS Optimizer is a web tool for reducing the file size of cascading style sheets.
You can choose from three levels of compression, depending on how legible you want the compressed CSS to be versus degree of compression.
Online CSS Optimizer which reduces the file size of your CSS code.
The CSS Compressor makes major changes to stylesheets and is still in developement, so it may not work correctly.
This tools takes in a CSS file, and parses and outputs a leaner version, removing any redundancies and attributes which are not needed.
Automatically format your CSS so they are easy to read and edit.
An online code beautyfier.
The tabifier is a tool to properly indent computer code.
Validation
The W3C CSS Validation Service is a free software created by the W3C to help Web designers and Web developers check Cascading Style Sheets (CSS).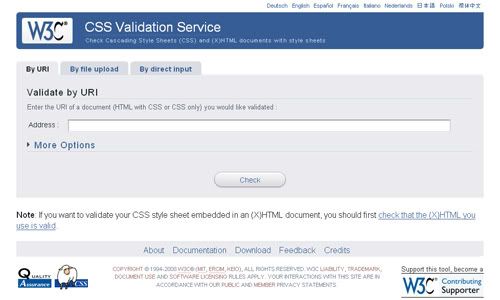 This service has been provided to allow you to check the validity of your CSS against the W3C's validation service, along with a colour contrast test, and a test to ensure that relevant sizes are specified in relative units of measurement.
Use this tool to find CSS selectors that aren't used by any of your HTML files and may be redundant.
CSS Forms
First Web Based WYSIWYG Form Builder. Create and publish web forms using your browser.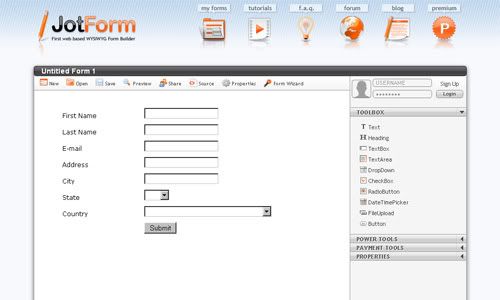 Wufoo makes collecting information on the web easy.
FormSmarts is an integrated web form service that lets you create forms, publish them online, and get form results.
Create Web Forms and Collect Responses with our State-of-the-Art Form Builder and Processing Service.
Navigation
Create a standard compliant xhtml/css menu for your website.

CSS Menu Generator is here to provide the average webmaster with tools to create custom, cross browser compatible website menus.
Free Css Menu Generator.
Reset CSS
The goal of a reset stylesheet is to reduce browser inconsistencies in things like default line heights, margins and font sizes of headings, and so on.
The foundational YUI Reset CSS file removes and neutralizes the inconsistent default styling of HTML elements, creating a level playing field across A-grade browsers.
A basic master stylesheet.
Blank CSS Layouts
These CSS Layouts offer full Grade-A browser support. That means that these CSS Layouts will look and behave the same in all internet browsers, like Internet Explores 6 (IE6), Internet Explorer 7 (IE7), Firefox, Opera, Safari and so on.
42 faux-column CSS layouts for downloading.
53 fixed-width CSS layouts for downloading.
The foundational ___layouts file offers five preset page widths, the option to have a fixed width or a text "zoom" style scaling effect and two core templates which give you the ability to nest subdivided regions of one to four columns.
10 different layouts with example pages, all based on the same HTML.
Workarounds for CSS browser issues.
Other Tools
Dynamic Web Pages from your Photoshop Designs in Seconds!.
Conditional-CSS allows you to write maintainable CSS with conditional logic to target specific CSS statements at both individual browsers and groups of browsers.
CSSEvolve lets you play with many properties of a web site, including the site's color scheme, fonts, borders, and more.
The CSS Text Wrapper allows you to easily make HTML text wrap in shapes other than just a rectangle.
The Box Office lets you wrap/float/contour text around freeform images using CSS for usage in (X)HTML pages.